Been meaning to post up a little thread on my build project for ages but various distractions both fun and arduous have blocked me - but since as I was going to surf this morning and it's tiny and dead weak (but sunny
) I thought it ideal to tell you dudes about my little foam and chemical induced journey.
It all started when Splinter from here replaced my old timber front doors (a bloody good job he did too), I started hacking up the scraps to use as firewood as last autumn drew in and realised I could cobble together a decent set of shaping trestles from these badboys. I made one end and half made the other, distractions of life, work and surf came in the form of consistent swell and fast forwarding to February meant my crappy scrappy trestles had been left untouched and unfinished for months in the garage, I looked at them leaning against the wall and thought - this is going to be one of those things I'll say I'm going to do but will never do it..... I'd not been using Twitter long, due to a phobia of social networking, when a tweet popped up from
Chris Hartop
saying he was running some more board building courses in North Cornwall and that for around the price of a new board from a shop you could craft your own from start to finish with someone who knows what they are doing watching over you ready to step in and save your board from any misguided molestation attempts, if I was ever going to shape something this was the opportunity so I dived right in.
So what to make? I'd spent a lot of the winter on an Ectic Concept mini simmons and was sold on the shape, buttery smooth glide, loads of drive but loose as well and I'd also been odling Mandala's shapes for a good couple of years but the expense of getting one on these shores always made me think twice about going in for one... it was the Superchunk Twin Keel Cutaway in particular that was lighting my fire, this little fella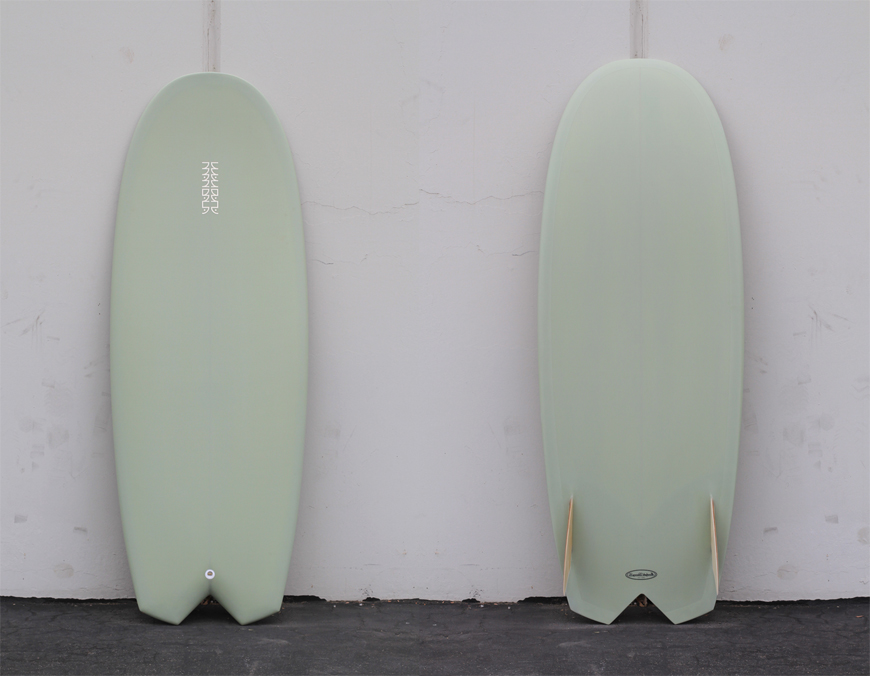 So after a bit of consultation with Chris a plan was hatched to create a Simmons influenced (Sim rails & S-Deck) version of the Superchunk TKC with the dims of 5'6 x 22 3/4" x 2 5/8" with a touch of nose rocker and very little rocker in the tail, rolled/hull nose into flat into single concave then flat through the fins for thigh to head high waves. The fin gods must have been shining on me too as not long after the decision was made to defnitely go twinnie cutaway instead of quad Chris said that Mick from Lokbox had just got in some luverrly Tim Stafford cutaway keels so they were procured at a very good price in readiness to drive this sled at warp speed. Finnage;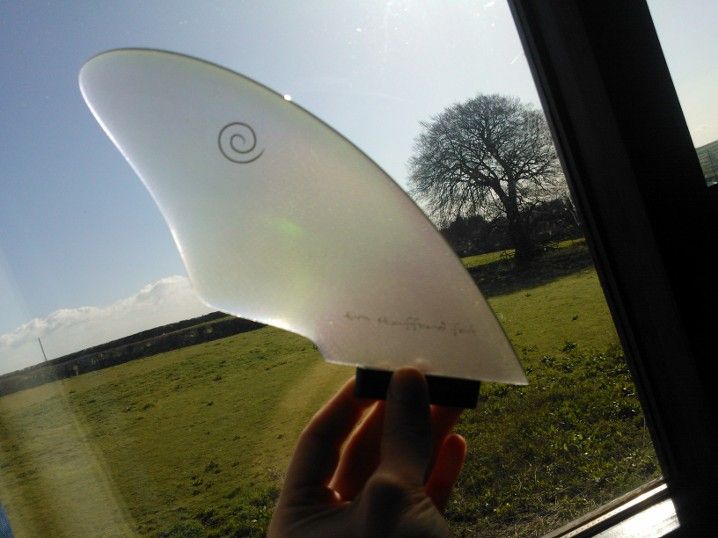 So the blank was ordered up and Chris and I laid out the shape using his existing templates and drawing some new lines of our own where existing templates weren't suitable. This actually took a fair bit of time and really makes you think about how much work is involved in just creating a new shape that's not a modification of an existing template, it's very difficult to ensure everything is symmetrical and there was tonnes of measuring out from the stringer, re-measuring, checking by eye, re-measuring, adjusting slightly... you get the picture. Eventually I got the chance to go at it with a saw, Chris putting the pressure on saying the sawing needed to be as perpendicular to the deck/bottom as possible, cue me sawing very slowly and timidly... This was probably one of the easiest parts of the process but even at this stage I was tense about making an error, after my slow sawing we were left with this;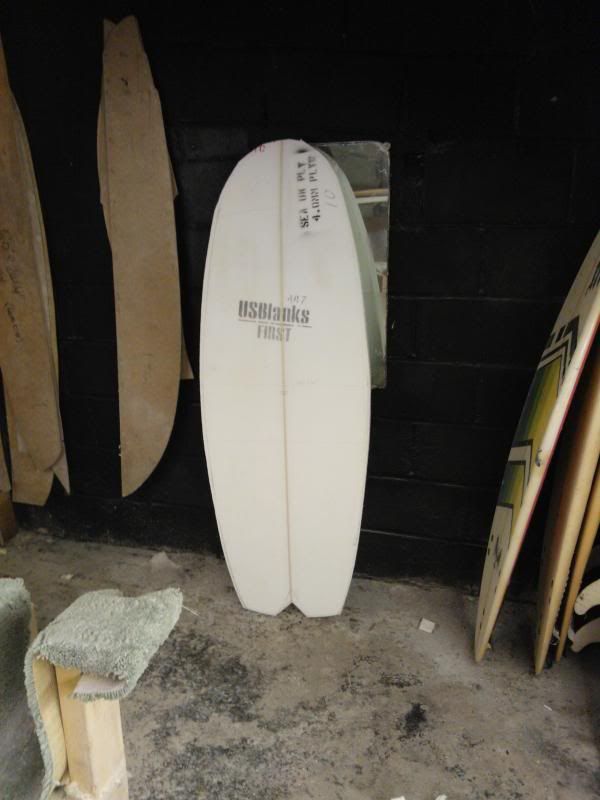 Next job was to get the planer out
and get really dusty, the amount of mess thats created during this stage is a bit of an eye opener. We lost foam from areas the shape didn't need it, a lot of planing on the tail, nose (leaving foam for the SDeck) and rails went down.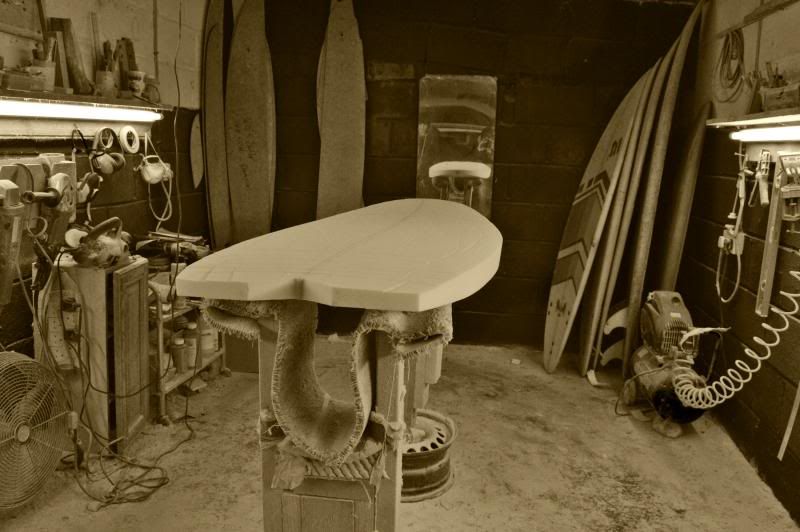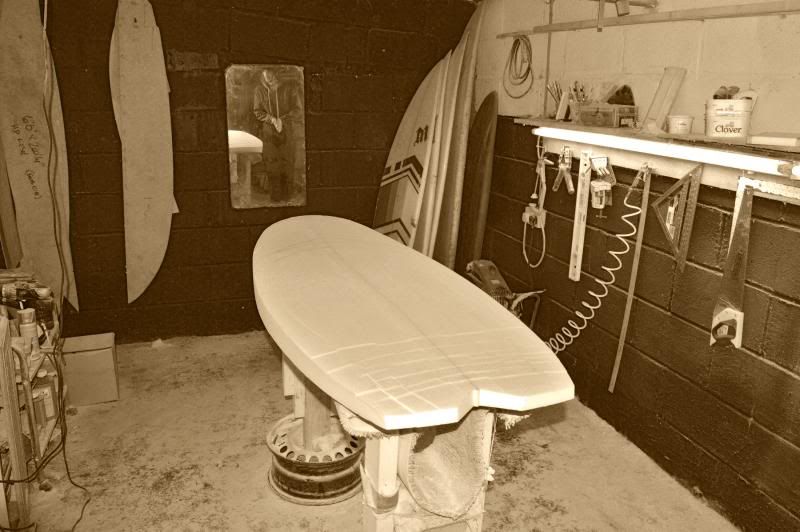 Next up was the cool bit, the stage where a blocky, vaguely surfy looking thing becomes a curvy wonderful thing of beauty, looking like it will carve a glassy face like a whippet taking a high speed bend. We spent quite a lot of time on this stage, hand blending the areas that were planed, gently sculpting the rocker, deck and foiling the rails. This is where Chris was invaluable for me really - there were plenty of times where I was focusing on a small area completely unaware of how much foam I was removing and how it was affecting the rest of the shape - he was directing me all the way making sure I wasn't going to make a hash of it all. I found the rails particularly hard as they are up in the nose (hully) and down in the tail for hold and you've got to manage that transition smoothly all the way through the length of the rail - I think if left to my own devices I'd have either not attempted such a complex set of features or created an absolute dog of a board
. Anywho, here it is in all it's foamy glory with just a few tiny bits to tidy up (little bit of stringer to cut out of the tail and a few other tiny bits of sanding needed before glassing);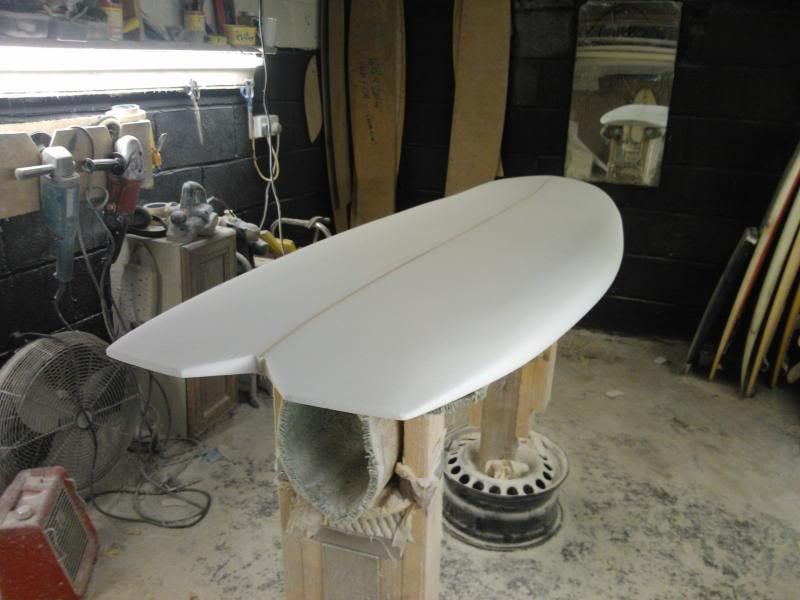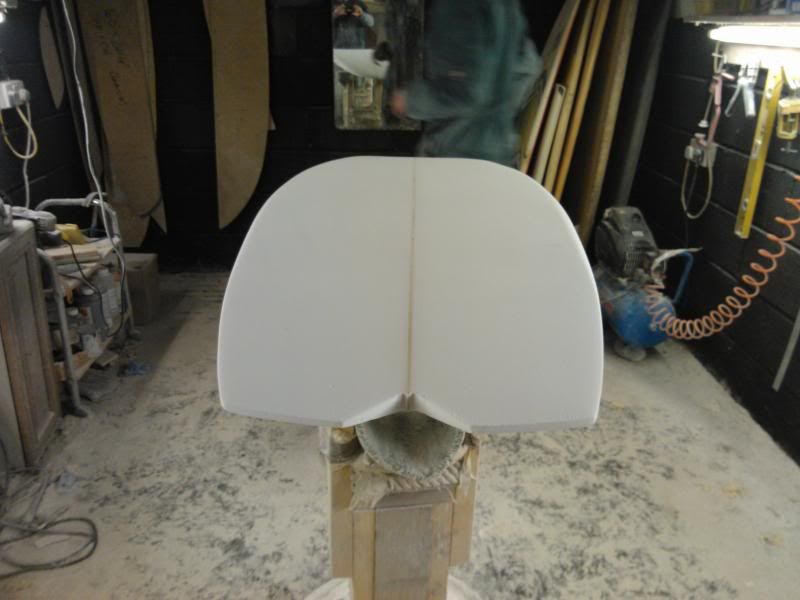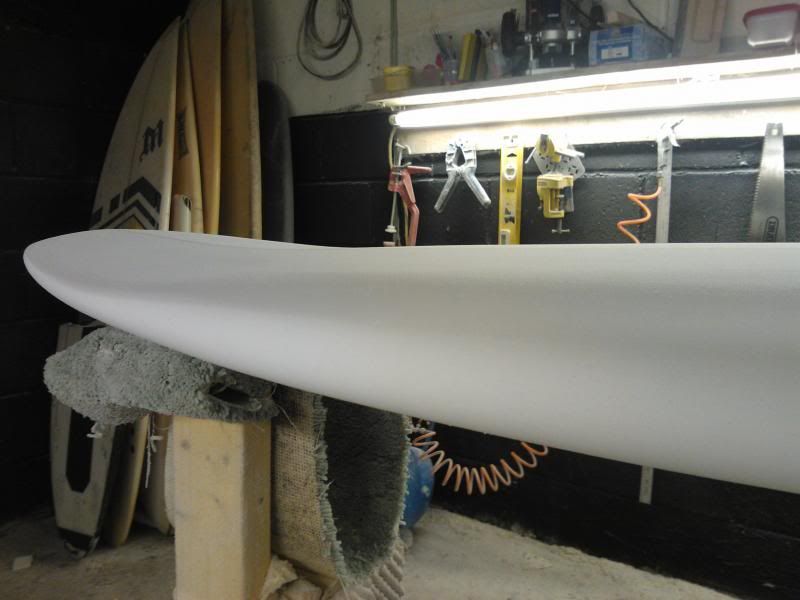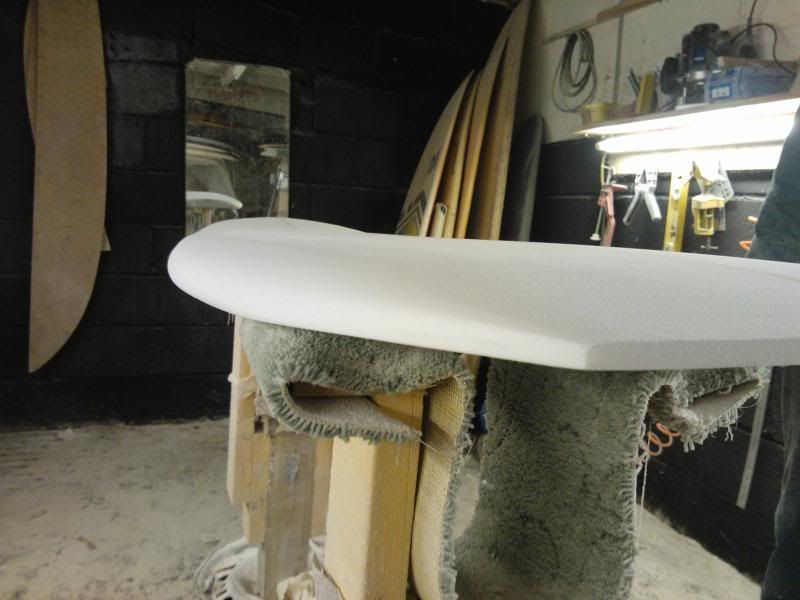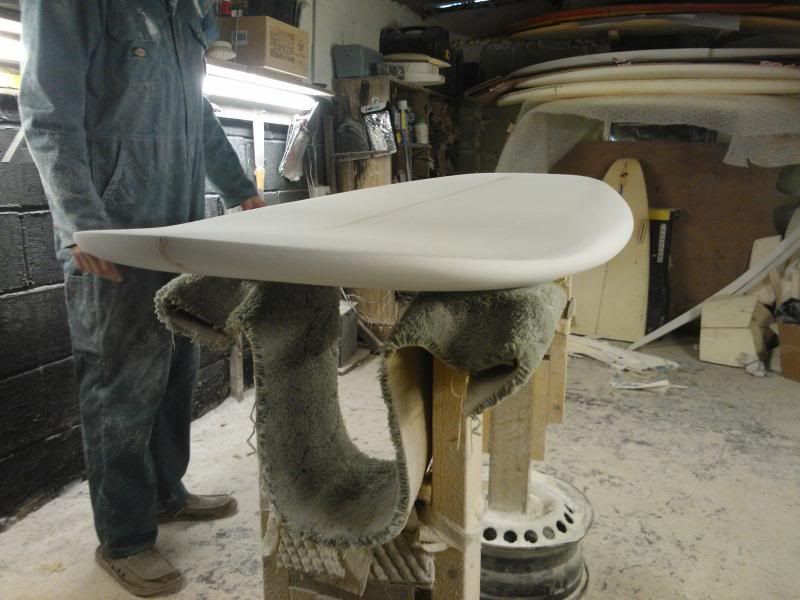 Another cool bit, signing the board! I've called this creation Otta, hopefully it will be as at home in water as the furry fellas themselves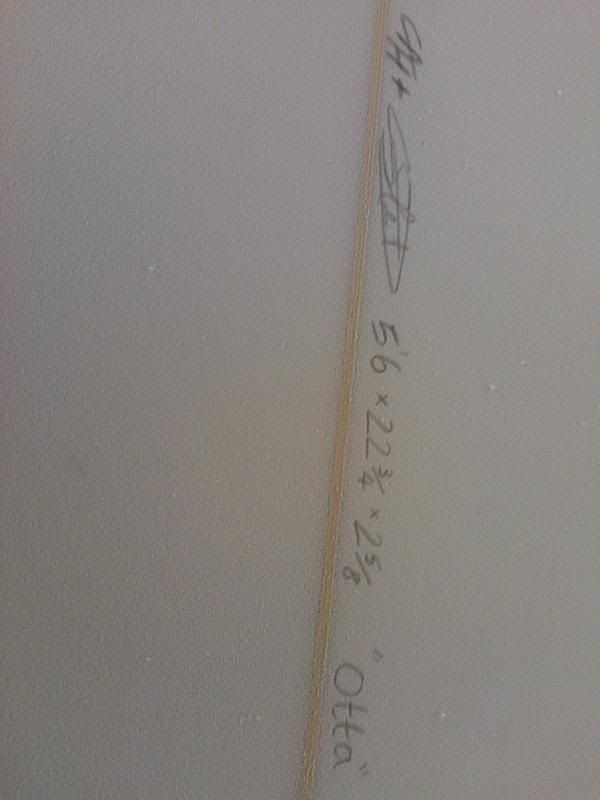 This brings you nearly up to date now as I move onto the scary glassing stage. We're going for a super strong build and finish which still should be relatively light so 6oz on the bottom with 4oz + 6oz on the top. I've also never had a resin tint on a board before so I fancied one for this flying machine. Continuing the Mandala inspiration I went for a semi opaque green which is actually way less vivid than these pics suggest but it has led us to refer to the board as Slimer (from the Ghostbusters) with Chris deciding that it will be able to fly through walls..... of water.... Most probably whilst I'm getting flogged by the lip on the other end of the leash!
Glassing was pretty scary as you're working to a pretty tight time frame whilst the resin is setting, you're shifting around the board getting busy squeegee'ing it thoroughly into all areas of the glass, again this is where I benefited from Chris' help as he was spotting plenty of areas that I had missed with the resin and acted quickly to make sure Otta had a good covering. Certainly a stage that could have ended in tears if I had had a go solo but was made relatively easy and fun instead
.
here's Slimer;
Next up is glass the top, lokbox fin install and finishing. I'll be sure to update this thread, there's a little while to go yet but I'm gagging to surf the thing, hopefully on a nice sunny lined up 2ft day of peelers
All thoughts and comments welcome and this is going to sound so much like an advert but I mean it genuinely - thanks very much to Chris so far for all his help along the way - thanks to him I'll be left with something I can enjoy for a long time. If anyone's in the area and fancies giving shaping a go but needs an extra shove you'd do well to get in touch with him.